Great deals for the HP Latex 700 & 800 Series
Celmac has announced its Price Fighter Sale to combat the imminent price rises announced by HP and other manufacturers during their quarterly reporting season. Those price rises will hit Australia in December which means there is a small window for some great deals for businesses looking to upgrade to the HP Latex 700 & 800 Series printers. The new HP Latex 700 & 800 series with white ink has been a hit with its fast speeds, white recirculation, true vivid colour printing and sharp 4 point text coupled with HP's waterbased latex inks has quickly become a favourite for many.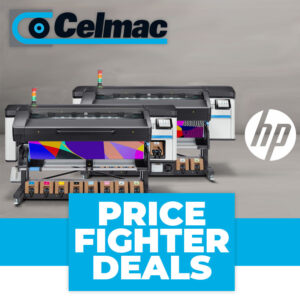 "Global parts shortages and supply chain issues have led to an unfortunate price increase in this coming December." stated long time Managing Director of Celmac, Wayne McIntyre. "We understand that a lot of our clients have done it tough during the last 18 months, so we want to offer great deals on our HP Latex 700 & 800 Series range before the increase. We have plenty of local stock, so for those that get in quick there will be no long shipment times, which is a great bonus in these difficult trading times. Our Sales staff are ready to deal, so it's 'first in best dressed' before all our local stock gets sold out!"
Celmac offices are now located in Melbourne, Sydney and Brisbane making it even easier for business owners to check the great range of products offered by Celmac.
The best way to access these deals is call or email Celmac directly via the website.
Find out more about the HP 700, 700W & 800, 800W series by clicking the links.